Hi – Welcome to Wherever I Land…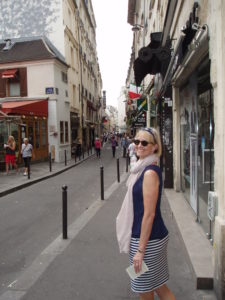 My love affair with world-travel began in my twenties when, as s a singer in a six-piece top 40 cover band, I had the honor of working with the Department of Defense (DOD) to entertain U.S. troops stationed in Japan, Germany, and the Philippines. I had never been out of the country before, and I fell―hook, line, and sinker― in love with seeing the world!
Since then, I've traveled to nearly all 50 states in the U.S. and more than 35 countries in 5 continents for business and leisure.
In my travels, I've found that I am, for the most part, what the French call a flâneur – a wanderer and observer, walking for walking's sake – in no hurry to get from one place to another, and always ready to explore intriguing passages, nooks, and corners. By slowing down and observing the ebb and flow of a place and how I fit into it and being open to whatever I might find, I feel at home in the world.
So come with me and explore the streets and alleyways of world-class cities and mountain and jungle villages. Iconic tourist sites and off-the-beaten-path places. Hotspots that crowds flock to and hidden gems that make you feel like a "local-in-the-know." Discover the things, places, food, and people that make me love wherever I land.
Susan Brauer
Wanderer, Observer, Travel Writer & Speaker
Wherever I Land
Reach Out
If you'd like to collaborate on an article for your publication or if you just want to say hi
Contact Me >