The setting sun on the western horizon lit the sky in fiery pinks, oranges, and purples. My friends and I raised our rum punch-filled glasses to toast another spectacular sunset overlooking the Caribbean Sea from the deck of our condo.
My husband and I had made our way to the archipelego of the Caymand Islands just southwest of Cuba to celebrate a "landmark" birthday year with a group of friends from high school. While Mark and I usually spend much of our time scuba diving when in the Caymans, not all of our friends were divers, so we spent more time on this trip, seeing sites on top of the water. One of the places we visited was the Cayman Turtle Centre.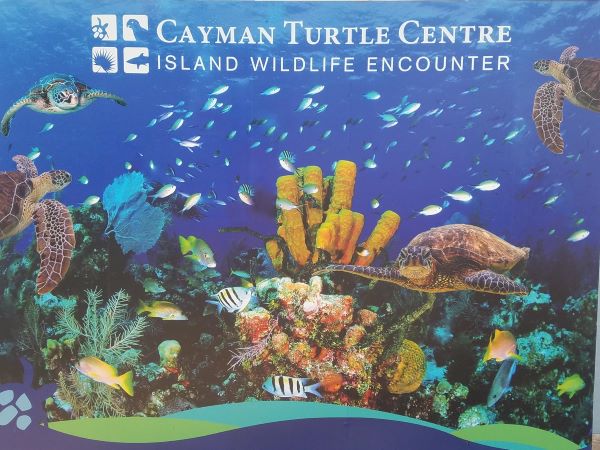 At one point green turtles, crucial to sustaining marine ecosystems, were on the brink of extinction, so I was thrilled to see hundreds of these beautiful creatures at the Centre. Since 1979 The Cayman Turtle Centre has bred and released over 34,000 turtles.
There are several tanks to observe the turtles at different life stages. With supervision, you can touch some of the turtles (soft, "two-finger" touch) and even swim or snorkel with reef fish and young green sea turtles in a calm, saltwater "lagoon."
The Centre also offers an aviary filled with brilliant birds, a butterfly house, walking trails, and a gift shop filled with anything turtle-related that you might want.
I've seen many sea turtles gracefully swimming when I've been diving, and it was fantastic to see how the Cayman Turtle Centre is ensuring these beautiful, gentle sea creatures continue to be a part of the ocean reefs.