My husband and I have enjoyed many fantastic ski slopes in the Rocky Mountains of Colorado. However, Breckenridge (Breck to locals) with its five easy-to-access peaks offering excellent and varied skiing options has become our chosen go-to-ski-week vacation spot for more than 30 years. While the skiing is certainly a draw for us, it's actually the town of Breckenridge , which offers much more than the typical ski resort village, that keeps us coming back year after year. And it's what really makes Breckenridge a place non-skiers can also love and a fabulous year-round destination!
The dozens of restaurants throughout the town offer delicious options from casual fare in lively pubs and bars to unique, upscale dining in cozy dining rooms. Snuggle into warm, comfortable cafes and bistros while the mountains are snow-covered, or enjoy a meal or drink on decks and patios overlooking the gorgeous green peaks during the summer.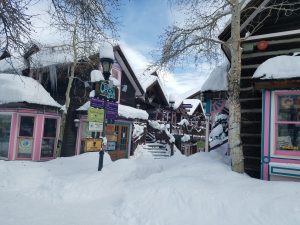 Numerous shops, housed in restored, historic homes and buildings, spill down Main Street, offering everything from T-shirts to high-end clothing and jewelry, furniture, music, and world-class artwork. Local artisans have workshops in the centrally located Arts District, where they offer classes and sell their pieces. There are also several museums to explore and learn about the area's long mining history. And if you're looking to relax, you can choose one of the many spas in town for a day of pampering, or spend an afternoon at one of the town's craft breweries or wine bars that offers tours and tastes.
What I love most about Breckenridge are the towering peaks of the Rocky Mountains that surround and soar above the town. Put all these things together and I think you can see why Breckenridge isn't just for skiing, but a fabulous year-round destination.