Four hundred years before Ann Frank and her family hid in a friend's home for two years during Amsterdam's Nazi occupation, another group of people was forced to create secret hideaways of their own.
In 1578, a Protestant faction took control of Amsterdam and prohibited Catholics from practicing their faith publicly. This forced the Catholic community to go underground or, in the case of Our Lord in the Attic, up to the top of the house.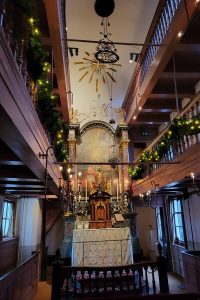 Our Lord in the Attic Museum (Museum Ons'Lieve heer op Dolder) is a well-preserved example of one of the many clandestine sanctuaries that homeowners built so that they could continue to observe mass. Jan Hartman, a well-to-do fabric merchant, and devout Catholic, bought three homes – one directly on the central canal, and two in the alley behind it – and connected their rooftop attics to create the hidden church. The sanctuary includes an altar (with a pulpit for the priest to deliver the sermon, tucked cleverly inside one of the columns), a pipe organ, and several pews and seats to accommodate fellow Catholic friends.
Aside from the glorious sanctuary on its top floor, a visit to the museum also allows visitors to explore the entire house, giving a sense of what it might have been like to live in a traditional 16th-century home, with its narrow rooms, steep winding stairways, and "box beds" tucked into corners on several floors.
Today, Amsterdam is often called one of the most liberal and religiously tolerant cities in the world. Looking back on its history, we get a glimpse of the crooked path it had to take to get there.