When Mark and I arrived in Saigon we quickly embraced the transportation norm of riding on the back of a motorbike to get around town. Using Grab (Vietnam's version of Uber), the app gives us the option of either a motorbike or car. There are 2 reasons that we almost always opt for a bike: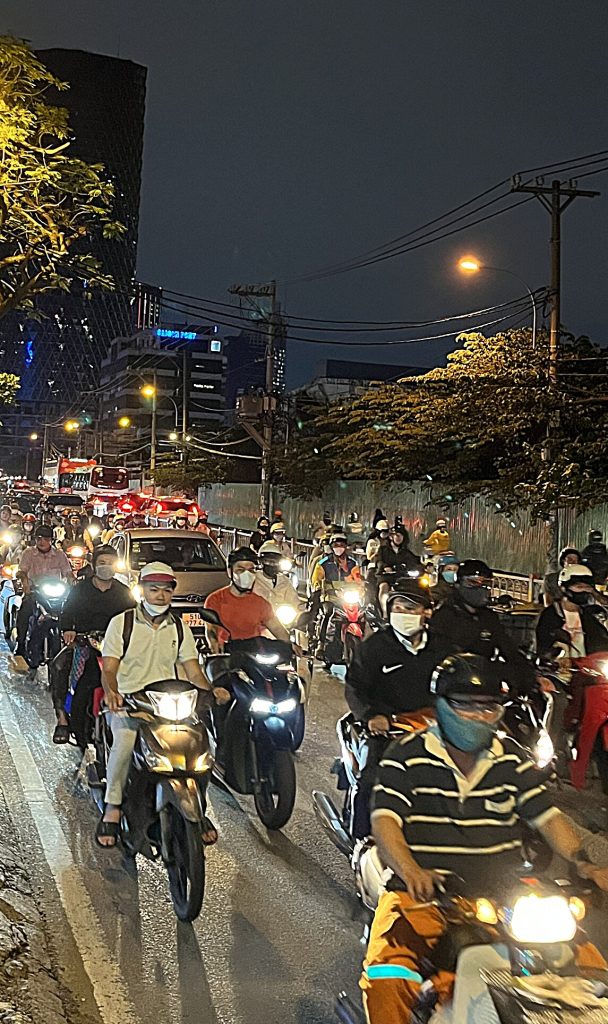 The first is that the number of motorbikes on the roads of Saigon far outnumber cars (especially in the CBD). Because of this, cars tend to get "trapped" between all the motorbikes and can't easily move through the snarl. A motorbike is more "flexible" in traffic. Drivers can (and do) weave around traffic, pull between parked cars, or veer down narrow alleys. There are few stoplights, and motorbike drivers do whatever it takes to keep moving. It feels like they pride themselves on never coming to a complete stop. (Note: Grab drivers provide helmets for passengers. Or you can always buy one if you prefer to have your own. Either way, it's the law to have a helmet.)
The second reason we take the motorbike option is – and I can't stress this enough – it's fun! 🙂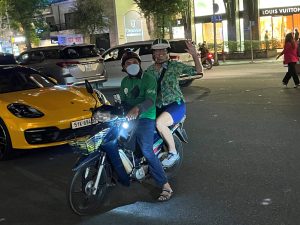 Saigon is located in south Vietnam and is currently at the tail-end of the rainy season (May – November). Rain comes without warning, usually with a brief, but soaking downpour mid-afternoon. I was on a Grab bike a few days ago when it began raining. Without missing a beat, my driver pulled a plastic poncho out of a compartment on the bike and handed it back to me. I arrived at my destination not only quickly but perfectly dry. Now that's service!