My husband (Mark) and I love to travel and were excited to think about how we could do more once we retired. While on walk one evening, we started talking about not just traveling to, but actually living in a different country for about a year at a time for a couple of years. Once that seed was planted, it was like a light went on for both of us. We chose Vietnam as our first stop. With that, we sold our home, packed up 4 suitcases and a backpack each, and started our adventure.
We landed in Ho Chi Minh City (HCMC/Saigon) mid-October, and plan to stay for at least 12 months. We'll explore HCMC of course, but it's also a great home-base to use for our travels through SE Asia.
So far, we've found HCMC to be a fascinating city of contrasts. Its skyline is filled with beautiful, contemporary architecture that lights up at night with eye-popping color. By comparison, in the "canyon" of the modern skyscrapers, are the small, street-level food, restaurant, and shop stalls, that are owned and have been run by families for generations. These spill out onto sidewalks during the day and into night. They add a layer of cultural experience that we'll enjoy learning more about as we make Saigon our home base for the next year.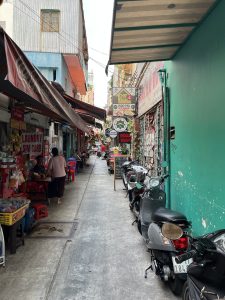 We've barely scratched the surface of everything this fantastic city of 9 million people has to offer.
Stay tuned…